Covestro approached us looking for  help communicating a complex message to a family audience.
Objective
Our aim was to inform and expand the current thinking around plastic. Polymer-maker Covestro wanted to show the world that actually, not all plastic is bad. In fact, some of it is very necessary! From car dashboards to medical equipment, this is a substance we cannot (at the moment) completely erase from our lives.
What we did
We created a multi-platform campaign, including a competition, which covered topics around the history of plastic and its importance as a wonder material, when used responsibly.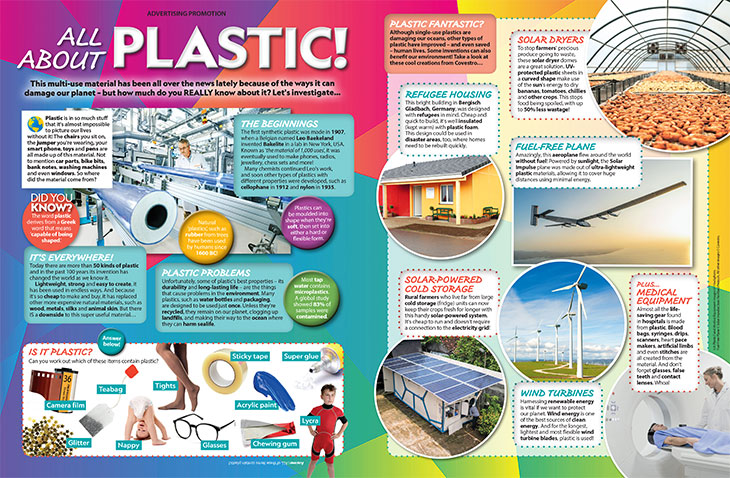 We were able to successfully communicate that plastic is an important enabler of innovation, whilst educating readers about the detrimental effects that single-use plastics can have on our environment and wildlife.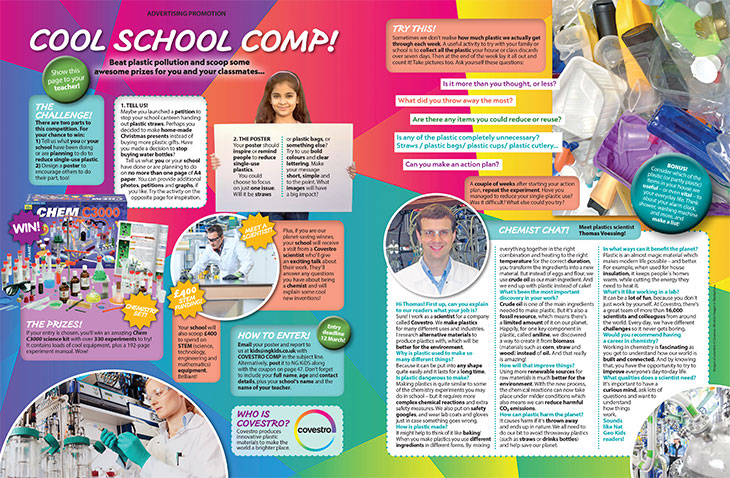 The competition gave readers the chance to win a Chem C3000 science kit, a school visit from a Covestro scientist and a member of the National Geographic Kids team, plus STEAM (Science, Technology, Engineering, Arts, Mathematics) funding for their school!
STRATEGY: Creative, Education, Behaviour Change.
INSIGHTS: Content research & verification.
CONTENT: Creation.
PLATFORMS: Print.
GOAL 9: Industry, Innovation & Infrastructure
GOAL 12: Responsible Consumption & Production
GOAL 13: Life Below Water