How do you broach sensitive topics with your audience?
As Digital Editor of National Geographic Kids magazine, I often find myself faced with having to explain deeply challenging and sensitive topics to a young audience. It's the challenge we face when communicating around topics like climate change, species extinction, or natural disasters.
It's a tricky balance to strike – provide children with enough knowledge to adequately understand a subject, while protecting them from any distress that the topic may cause.
What I'm often surprised to find, is how remarkably resilient kids are to learning about such topics. They are curious about the world, about right and wrong, about unfamiliar cultures and concepts. They also – like all of us – have a natural morbid curiosity. Just think of their fascination with the tyrannical Henry VIII, or the horrors of the Roman fighting pits!
Furthermore, we forget that as children, we are introduced to the concept of morality from a young age. The fairytales and fables we are raised on explore moral values and the idea of good and evil. Through reading these stories, children are able to draw their own conclusions and form their own beliefs about right and wrong.
"Kids are remarkably resilient to learning about tricky topics – just think of their fascination with the tyrannical Henry VIII, or the horrors of the Roman fighting pits!"
We take a candid approach to communicating tricky topics. Firstly, we provide kids with the age-appropriate information they need to engage with the topic – simplifying any complex concepts into a more digestible narrative. We focus on the who, what, when, where, how, and why. We remain as objective as possible, allowing kids the freedom to draw their own conclusions. Most importantly though, we shine a light on the people who have fought/are fighting for good in the face of these challenging issues, and why those people and their stories are important to remember. Ending on that positive note is crucial to ensuring that kids feel hopeful about the future, not disheartened.
Of course, we don't just talk to our audience about animals and climate change. Sometimes, we tackle deeply challenging topics like the Holocaust, slave trade or more recently, the bushfires in Australia. As publisher of the Australian edition of Nat Geo Kids, we were cautious about tackling this topic with an audience who may have been directly or indirectly affected by the fires.
"It's a tricky balance to strike – providing kids with the facts
while protecting them from any potential distress."
We published an educational, search-optimised online article to introduce kids to bushfires in a factual, non-scary manner – how and why they start, when they become dangerous and how they can be managed. The article explains the important ecological role that bushfires play in the natural environment, and how climate change is affecting bushfires. We also reassured kids about the amazing people working to control bushfires, providing them with tips on how they can help the those affected, and links to further reading from the Australian Fire Service.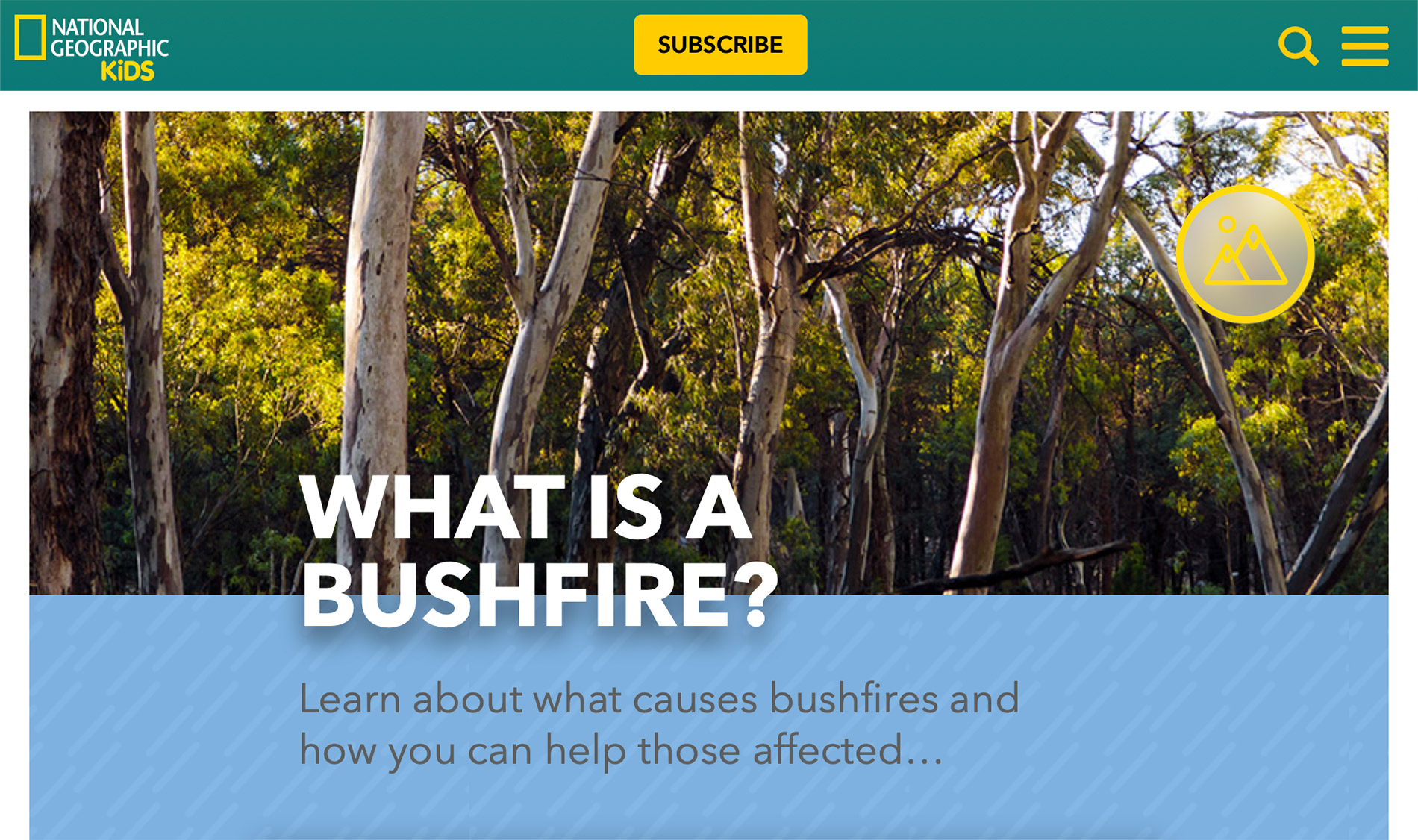 Read our What is a bushfire? article here.
As we all know, there's nothing like the unknown to make you feel scared, unsettled and pessimistic – this is evidenced in the way that eco-anxiety is manifesting among our youth, who are facing an increasingly uncertain environmental future.
"By educating kids, you provide them with the reassurance and tools they need to have informed conversations with friends, parents and family."
But by providing kids with the appropriate knowledge, we also provide them with the tools they need to have informed conversations about these topics with friends, parents and teachers. They can feel empowered, more confident and reassured.
Just take a look at some of the comments kids have left on our article – which has had over 3,000 views in just a matter of weeks, and already ranks in Position 3 in Google search results: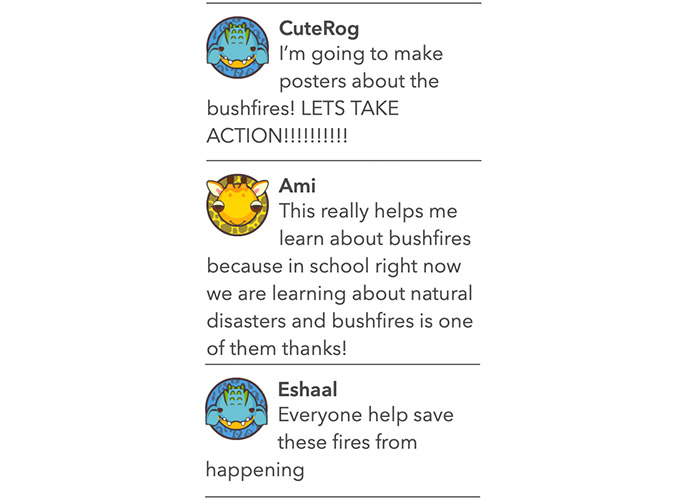 Of course, this approach doesn't just apply to communicating with kids, in fact, it applies to communicating with anybody, of any age.
One of the main reasons that people disengage with tricky topics is the negative feelings that they evoke. If there's one thing that we have learnt at Creature & Co., it's not to shy away from communicating seemingly-scary subjects, but to tackle them honestly, using positive storytelling that empowers people to take action.

Gemma Chandler is Content Director
at Creature & Co.
Image ⓒ Getty Images: 1145596381.