It's no great secret that creativity is important. It brings people together, relieves stress, boosts confidence, productivity, wellbeing, and it can also be used to solve world problems. This idea is what inspired the formation of the Climate Creatives Challenge. We're glad that it did, because we're thrilled to announce our card game concept 'Creature Craze' has been named a Commended Entry in the initiative's second challenge.  
The Climates Creatives Challenge
The Climate Creatives Challenge is a series of design competitions, the aim of which is to help support new and novel approaches for communicating the impacts of climate change and the benefits of mitigation, adaptation and resilience. The challenge is incredibly inclusive and is open to people of all disciplines and creative backgrounds – meaning there's no boundaries, encouraging good ideas from all types of creatives. 
Competition entry – Creature Craze card game
After a successful first iteration, the Climate Creatives Challenge put out their second challenge, supported by the WWF. This posed the question; 
How can we communicate the impacts of climate change on a  
HABITAT and/or SPECIES and the benefits of mitigation, adaptation and resilience? 
The judges were looking for entries that explored ways for communicating the topic that went beyond the traditional bounds in which it was typically represented. With this in mind, and considering how they wanted entries that could connect with people that weren't necessarily aware or engaged with the topic, we were inspired to create a climate change card game for kids! 
 A modernised adaptation of the classic card game 'Old Maid', our game idea Creature Craze aimed to teach kids about symbiosis (a relationship between two types of animal or plant in which each provides for the other the conditions necessary for its continued existence) and how climate change can impact these relationships.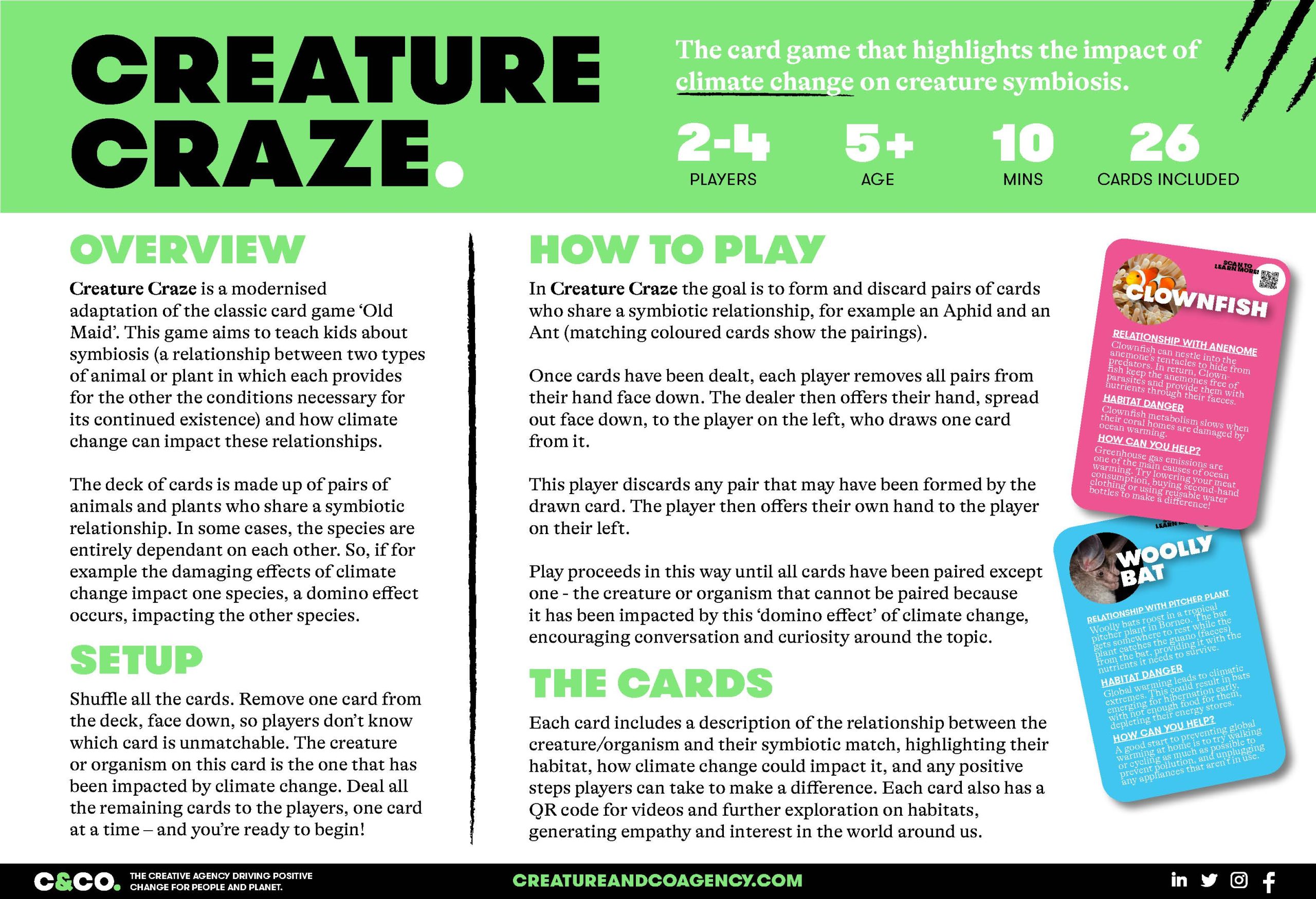 "Going beyond the traditional bounds of climate education, Creature Craze is a fun, simple game for all the family – encouraging learning through play and generating interest and empathy in the world around us," explains Creature & Co. Senior Content Creator, Oliver Selby. "The core goal of Creature Craze is to communicate the impacts of climate change on symbiotic relationships, highlighting a 'domino effect' where species and habitats are damaged because of this. The 'How Can You Help?' section on each playing card shows real, tangible actions that can be taken to make a difference and ensure the natural order of things remains and these symbiotic relationships are unaffected." 
The Climate Creatives Challenge picked Creature Craze commended entry, with the judges saying; "I liked how clearly laid out this game was, and that it aims to disseminate climate change information in a fun and colourful way that will engage multiple generations." 
Our entry won a prize of £250.00 which we have decided to donate to a charity with a similar cause to the challenge. Our chosen charity ecoACTIVE are on a mission to create a world where young people and communities are agents of change to create a better planet. Using hands-on, practical approaches to explore complex issues of sustainability, ecoACTIVE support young people as they develop & deliver social action projects in their communities. 
Creating change
At Creature & Co., we specialise in driving positive, long-lasting behaviour change through language everyone can understand, and content that everyone can enjoy. We are experts at creating content that raises awareness and familiarises people with the issues our planet is facing, and believe gamification is an incredible way to do this. 
Recently, we created Go for Goals, a brand-new game based on the United Nations Sustainable Development Goals that drives positive change for people and planet whilst also being FUN. Like Creature Craze, there is a Climate Action element to the game. 
Interested in finding out how Creature & Co. could help your business creatively communicate purpose initiatives? Or do you want your own copy of Go for Goals? Get in touch at [email protected]