Exciting news! We've created a brand-new game based on the United Nations Sustainable Development Goals. And guess what… it drives positive change for people and planet whilst also being FUN.
Go for Goals is a card game for 2-6 players aged 8+, in which you, quite literally, change the world. Really! In Go for Goals, you collect and secure United Nations Sustainable Development Goals (UN SDGs) to contribute towards ending world problems for the good of humanity.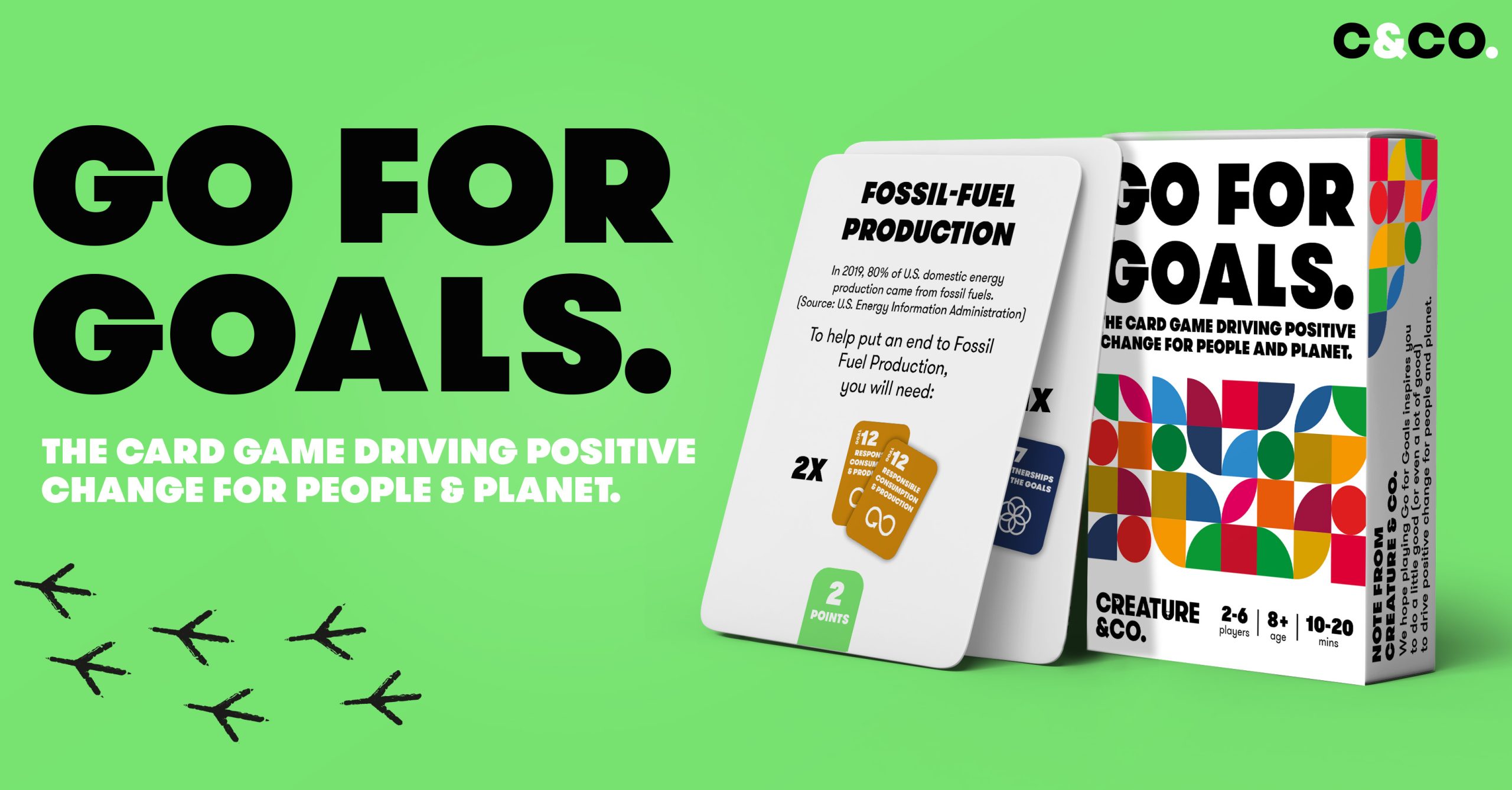 At Creature & Co., we specialise in driving positive, long-lasting behaviour change through language everyone can understand, and content that everyone can enjoy. Our collaborations unify a force for good, motivating people of all ages and backgrounds to care about the world's challenges and give them the knowledge and tools to act. 
We believe that the UN SDGs are a blueprint for a better world, looking at people and planet in an integrated way. They offer measurable objectives which can be used by countries, companies, and communities to achieve their vision of sustainable development by 2030. 
Going for Goals
Our team of inquisitive and expert storytellers, experienced at working in alignment with the UN SDGs, have created this game to not only raise awareness of the UN SDGs, but to help people familiarise themselves with what the UN SDGs actually do.  
On creating Go for Goals, Oliver Selby, Creature & Co.'s Senior Content Creator, says;
"Gamification is a great tool in any creator's arsenal for simplifying challenging topics, and that's exactly what we've done with Go for Goals; used the game as a tool to help people understand how positively contributing to the UN SDGs creates real, tangible impact for the good of humanity.  
As a complete board game geek, I wanted to ensure the game was fun, entertaining and had great replay value, all whilst delivering the required learning objectives. Like all good games, Go for Goals definitely passes the 'creates-arguments-out-of-what's-supposed-to-be-a-fun-wholesome-activity' test, so what more could we want?" 
How does Go for Goals work?
Go for Goals uses a 'hand management' game mechanic. This means players are rewarded for playing certain cards in specific sequences or groups, much like they are in popular games such as Ticket to Ride, Pandemic, and even Cards Against Humanity.  
There are three types of cards in Go for Goals: World Problem cards, Event cards, and UN SDG cards.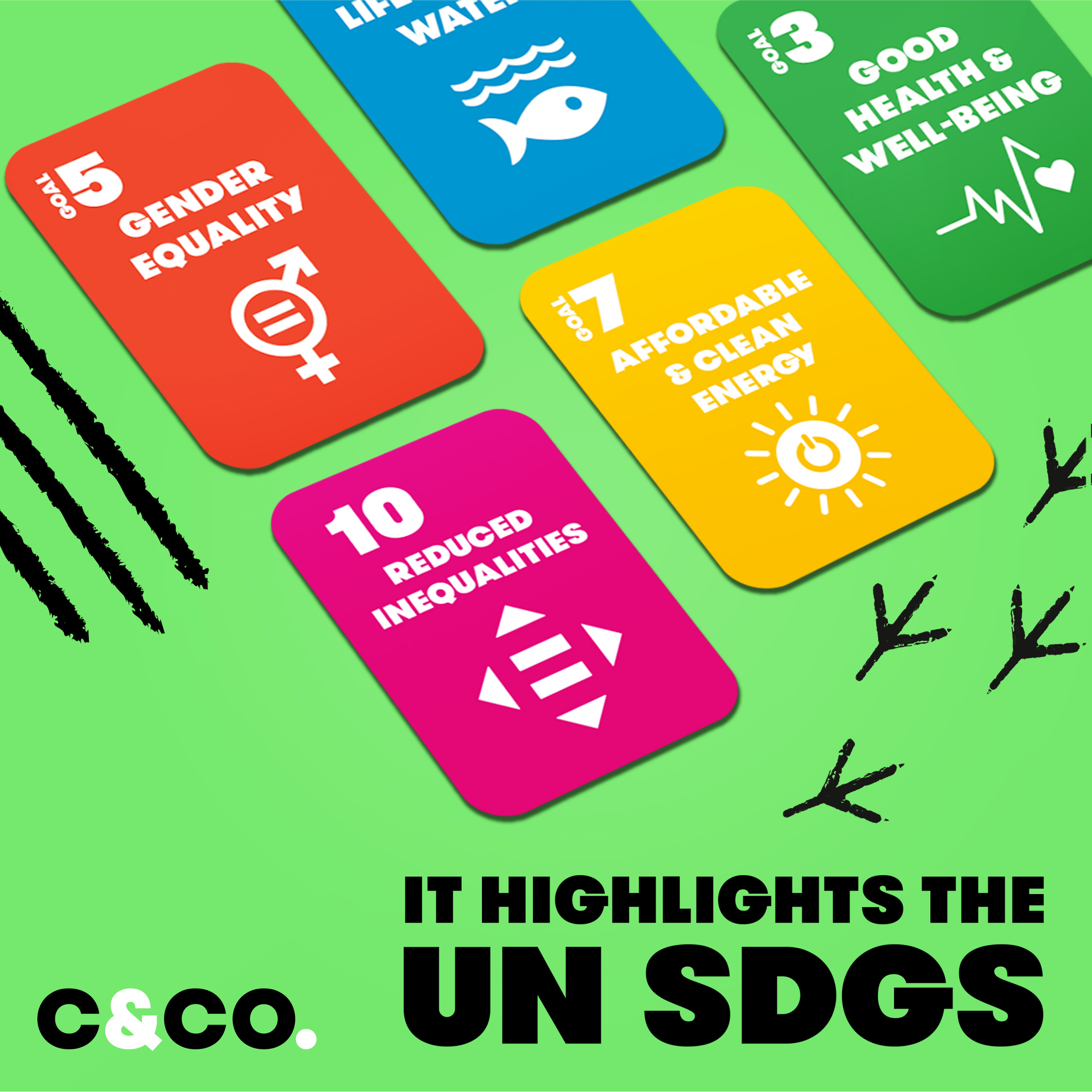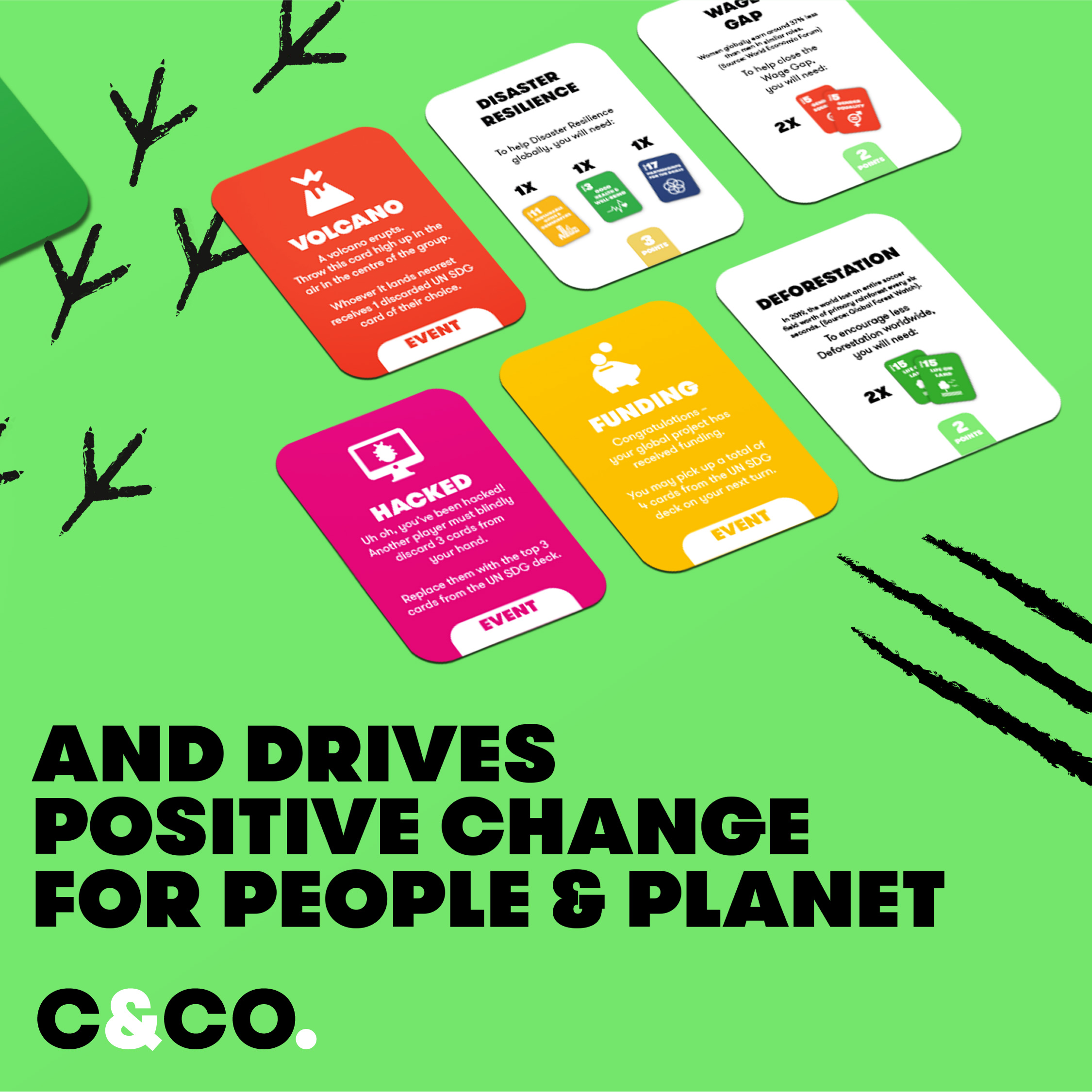 The goal of the game is to make the most change by contributing solutions to the World Problem cards using the UN SDG cards. Solutions to the World Problem cards require a different combination of UN SDG cards, and each World Problem card you obtain earns you either 2 or 3 points depending on the card's complexity. Unpredictable Event cards can either scupper your progress or help you on your mission to drive positive change. It's like Monopoly Deal for activists… 
The player who most recently did a good deed goes first… 
Go for Goals was created to inspire others to do a little good (or even a lot of good) to drive positive change for people and planet.  
Want to tell us how you're working towards the UN SDGs? Interested in finding out how Creature & Co. could help your business communicate its sustainability and purpose initiatives? Or do you want your own copy of Go for Goals? Get in touch at [email protected]