It's that time of year again. Decorations are going up, the mince pies have snuck their way into the office, and Mariah Carey is on the radio every 5 minutes. Bliss! At Creature & Co., we LOVE Christmas. In fact, we might even change our name to Christmas & Co. this December (Update: we weren't allowed.)
Christmas is a time where families and friends come together for festive fun; we trade presents and stuff our faces with as much food as we can lay our hands on. Right? Well, not for everyone…
In the UK, more than 14 million people are living in poverty – including 4.5 million children. That's why, this year we've swapped out the office Secret Santa and created a Reverse Advent Calendar to help collect donations for Euston Foodbank, part of The Trussell Trust.
The Trussell Trust support a nationwide network of food banks and provide emergency food and support to people locked in poverty. Contributing to United Nations Sustainable Development Goal number #1 No Poverty and number #2 Zero Hunger, the charity are working towards a vision of a UK without the need for foodbanks.
Working with Euston Foodbank, we identified 12 items that they are always short of when it comes to packaging up three days' worth of balanced and nutritious emergency food for someone in need.
So, instead of opening an advent window to receive a daily dose of morning chocolate, we're asking our team to put one requested food item aside for the first 12 festive days of Christmas.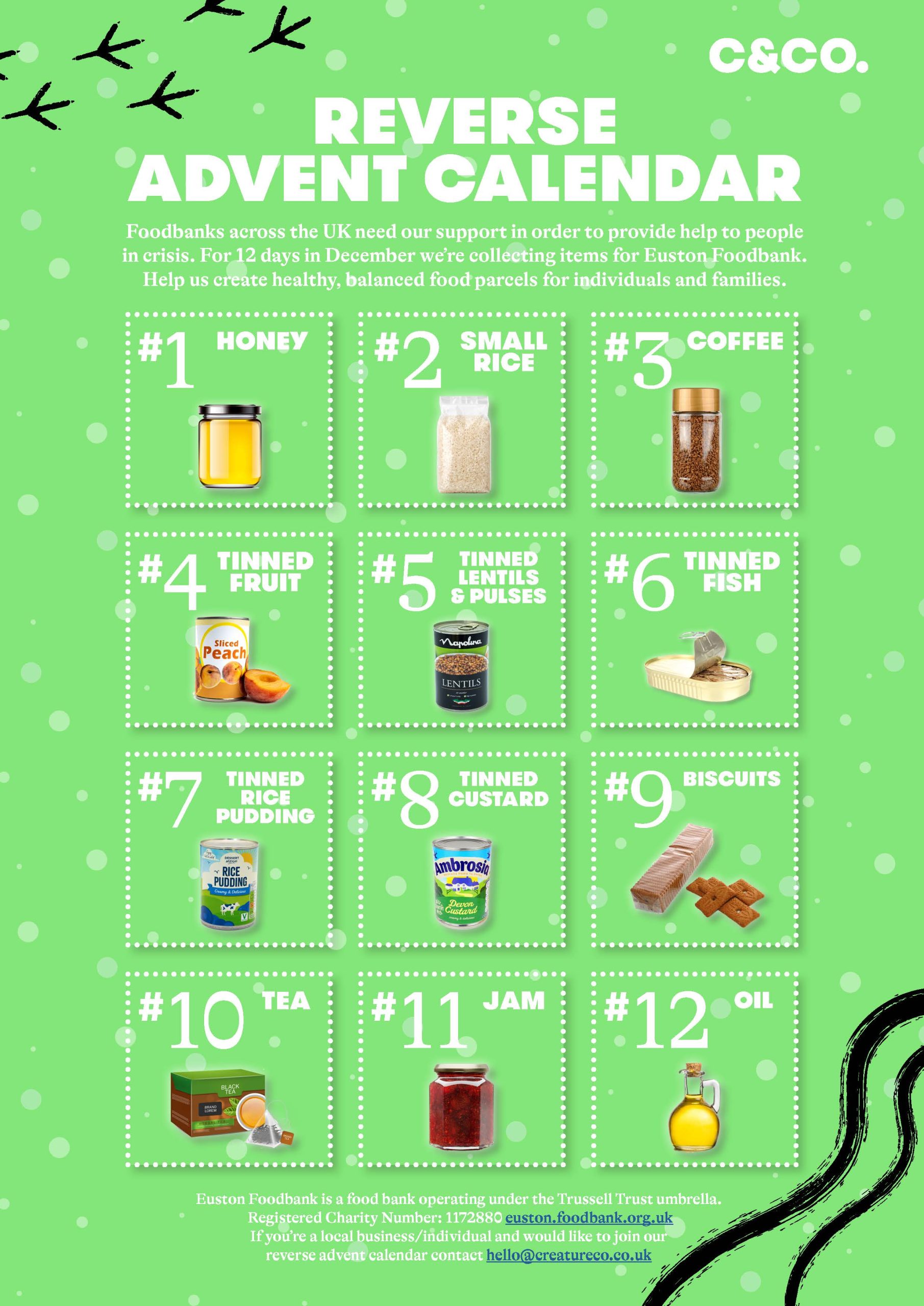 We want to ensure no-one in our local community goes hungry at any time of the year and so will be working with our team to find ways to support Euston Foodbank into 2023.
We hope our 2022 Reverse Advent Calendar inspires you to do a little good this Christmas. Why not follow in our footsteps and see what items your local foodbank is short of? Every little helps!
If you would like to join us in collecting donations for Euston Foodbank, please e-mail [email protected].
Alternatively, you can donate directly here: https://euston.foodbank.org.uk/give-help/donate-food/