What do you know about the SDGs? No, we're not talking about Sudanese currency. We're talking about the UN's 17 Sustainable Development Goals (SDGs). Maybe you've never heard of them before. Maybe you have. Either way, they're incredibly important, and should be on everyone's radar! Wondering what the SDGs have got to do with your brand, your work, or your life in general? Don't worry, we've got you covered…
What are the United Nations Sustainability Goals?
The Sustainable Development Goals (SDGs) are a set of 17 goals that 193 UN Member States have agreed to work towards by 2030. They cover things like poverty, hunger, health and education, water and sanitation, energy, peace and justice – all the way to climate change.
The SDGs are important because they give us a clear direction for where we need to be going as a society. They also serve as a call to action: they ask us to understand our lives through new lenses, so we can develop solutions that truly meet the needs of everyone on Earth.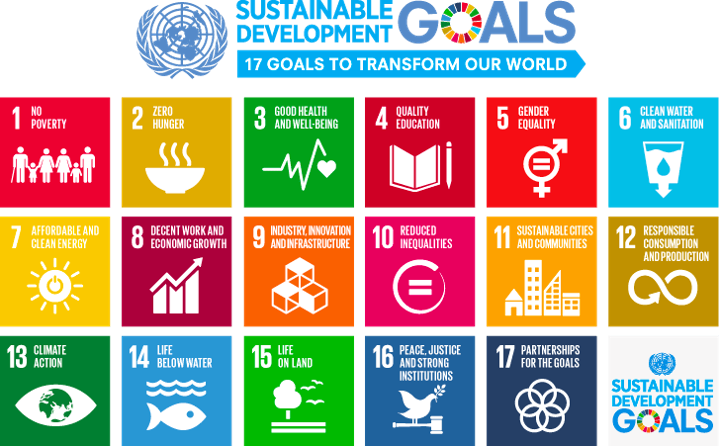 Why do Creature & Co. work to the UN SDGs?
The SDGs are a global commitment to end poverty, protect the planet and ensure prosperity for all. The SDGs provide a universal framework for sustainable development that puts people at the centre of policymaking. We believe that Creature & Co., our partners and our clients can all play an important role in achieving them. That's why our commitment to addressing these goals is so strong – it's not just good business but also good sense!
Our journey to implement the UN SDGs
Our journey to address the SDGs is an ongoing one. We've worked hard to ensure everything we do as an organisation drives positive change for the benefit of people and planet. Our work to date has educated over 24 million children and caregivers – a figure we aim to double by 2025. At Creature & Co., our purpose is to create lasting, positive change that makes the world a greener, fairer and more prosperous place for all. We operate in a virtuous circle: our mission drives our purpose, our purpose drives our growth, and our growth helps us achieve our mission.
We recently covered our progress in achieving our purpose in our Impact and Purpose Report, which you can download HERE. The report is not only a celebration of the positive impact our business has had over the past 12 months, but a public statement to hold us to account in the areas we need to improve on.
As well as addressing the SDGs as an organisation at Creature & Co., we're also proud of the work we do on behalf of our clients…
National Geographic Kids Magazine
Creature & Co. are brand guardians of Nat Geo Kids, which means our fantastic, in-house editorial team produces two editions of Nat Geo Kids magazine each month: one for the UK/Ireland markets and one for Australia/New Zealand.
Between April 2021 and March 2022, we sold 291,497 copies of the National Geographic Kids Magazine for the UK/Ireland market and 121,560 copies for the Australia/New Zealand market. As has always been with the kids' magazine market, these magazines included a lot of plastic, but as Creature & Co. and National Geographic Kids are both constantly taking new steps to improve our impact on the world, making magazines that included a plastic gift and glossy cover no longer fit with our company ethos, so we decided to go 100% plastic free!
We knew it wasn't going to be easy to dramatically change the way the magazine was made, so we listed the key components that went into making the monthly magazine and then set about improving each until we could say it was 100% plastic free without compromising on its quality. In changing the way the magazine was made, we made a positive contribution to an array of SDGs including Goal 13: Climate Action and Goal 12: Responsible Consumption and Production and more.
To find out more about how we helped Nat Geo Kids magazine ditch the plastic for good, check out our blog HERE.
Persil's Dirt is Good Academy
Aiming to galvanise a generation of children into acting on some of the world's biggest issues, the team at Persil's Dirt Is Good Project asked us to help create a digital education programme that would align to the UN SDGs and inspire behaviour change in kids.
With this in mind, we created The Dirt Is Good Academy, a brand-new educational programme that aims to create real, positive change among its target audience of children aged 12 and under. Brought to life with engaging visuals, gamification and customisable avatars, this programme guides the user through a series of missions, highlighting how they, themselves, can be part of the solution.
The Dirt is Good Academy soft-launched in the U.K. in February 2021 and in its first 4-weeks smashed our initial targets with over 700 registrants. This programme has been fantastic at educating kids on the SDGs in a positive, inspiring and empowering way, making a positive contribution to a range of SDGs including Goal 1: No Poverty, Goal 3: Good Health and Wellbeing, Goal 5: Gender Equality and many, MANY more.
To find out more about Persil's Dirt is Good Academy, check out or case study HERE.
Aligning brand purpose with the UN SDGs
The SDGs are a blueprint for a better world, looking at people and planet in an integrated way. They offer measurable objectives which can be used by countries, companies and communities to achieve their vision of sustainable development by 2030.
When once organisations were reluctant to integrate social goals into their business model, we are now seeing more brands taking important steps to align their purpose with the UN SDGs to help make a real difference. Change is being made in a number of ways; from embedding the SDGs into the way organisations operate, to promoting them via creative campaigns and much more. To quote that big shop at the end of your street, every little helps.
At Creature & Co., we are committed to helping our partners understand how to approach the UN's 17 Sustainable Development Goals. If you think your business could be doing more to care for the planet and address the SDGs, our door is always open for a free, informative chat. We'd love to hear from you!
Get in touch at [email protected]
If you found this article helpful, you may be interested in the whitepaper we recently published about how brands can empower people to care about nature. Click HERE to download.